Blog
2022-04-08
Bestuur jou webwerf en jou tyd reg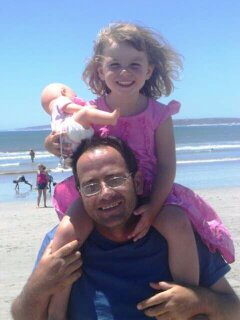 Foto bo van my en my dogter in Paternoster jare gelede. Sy word vandag 18 jaar oud. Hoe wens ek , ek het die geld en tyd gehad om vandag by haar te wees op haar 18de verjaarsdag. Vir iemand wie vir homself werk is die konsep van tyd en geld een en dieselfde ding. Wanneer dit kom by tyd is tyd die oorwegende faktor wat bepaal of iemand suksesvol gaan wees met hul webwerf. In hierdie blog kan jy die woorde tyd en geld gerus omruil soos dit jou pas. Dit is dieselfde ding. Of jy gaan self tyd spandeer op jou webwerf deur byvoorbeeld te blog, fotos met teks te laai of jy gaan iemand betaal om dit namens jou te doen.
Dink gerus daaroor.
Ons leef in 'n logiese wêreld waar jou insette gelyk is aan jou uitsette. Party mense volg 'n lang termyn benadering ander weer middel termyn en ander - veral skelms - gebruik 'n kort termyn benadering. Deur die jare - letterlik die jare - het ek al handboeke en blogs van duisende woorde op my webwerwe en ook koerant webwerwe geskrywe. Hulle is daar as tasbare bewys dat ek wel die tyd spandeer het. Ek beoefen in die praktyk dit wat ek predik. " Practice what your preach ".
Dit het egter wel tyd geword dat ek meer tyd op my eie webwerwe spandeer want dit is webwerwe wat vir my besigheid inbring, webwerwe wat vir my vliegkaartjies kan koop om my dogter met haar verjaarsdag te kan sien. Behalwe hierdie blog is ek klaar geblog vir die dag. Dit bring nie nou in die kort termyn geld in nie. Wat ek wel oor die naweek wil doen deur tyd aan my webwerf te spandeer is om die inligting op my webwerf beter uiteen te sit. Ek is beide 'n rekenmeester en 'n web designer. Dit was dalk 'n groot fout om dit op een webwerf te plaas want ek het my sleutelwoorde laat verwater. Ek was en is bewus daarvan.
Ek verdien egter geld op verskeie maniere. Deur my dienste - daar is heelwat - op my webwerf uiteen te sit kan ek wanneer ek met mense geselfs op WhatsApp of Facebook bloot 'n skakel plaas van 'n spesifieke bladsy op my webwerf. Die tyd wat ek nou spandeer bespaar my dus wel later weer tyd.
Dit krap my om dat ek nie my dogter vandag kon sien nie en ook dat ek haar so lanklaas gesien het. Sy is in matriek vanjaar en is baie besig. Ek sal vir so lank as ek leef haar pa wees en sy my dogter. Ek was verlede jaar met Covid baie siek gewees en dit was amper die einde. Genadiglik is ek besig om 100% te genees en is ek eintlik gesonder en meer produktief as vantevore.
Ek hou nogal van skryf en mense vertel my ek het die talent. Ek moet dalk 'n produk soos 'n eboek skryf en probeer verkoop. Ek het vanoggend so stukkie in die Bybel gelees van saai jou saad in verskillende rigtings in die oggend en die aand, jy weet nie watter en of albei gaan werk nie. So iets. So is dit dikwels met kliënte se webwerwe. Ons gebruik webwerwe soos Google search console wat vir ons wys vir watter terme 'n webwerf gevind word of amper gevind word. Deur daardie sleutelwoorde beter te teiken en dus daarop uit te brei kan ons meer suksesvol daarmee wees.
Ek moet doodeenvoudig groepe skep op hierdie webwerf van my en my rekenmeestersdienste onderskei van my webwerf- en advertensie besigheid. Dan kan ek die webwerf so uiteensit dat ek dalk 'n raamwerk skep om makliker my blogs te kan lees of dat ek self daardie raamwerk kan gebruik vir die eboek wat ek wil skryf. So hierdie blog is 'n bietjie tyd wat ek spandeer aan die beplanning van my eie webwerf / webwerwe.
Om daardie rede het ek terug gegaan en spelfoute op my vorige blog gaan reg maak. Gewoonlik doen ek dit nie want dit neem te veel tyd. As mens 'n eboek wil skryf en bemark dan moet mens maar daardie ekstra tyd spandeer so dit is wat ek gaan doen.