Blog
2022-04-09
Developing content for your website using the FAQ section of your website
My previous blog today " Market research example Solar Panels in Marloth Park or Betty's Bay " dealt with the start of market research for the demand for Solar Power in Marloth Park or Betty's Bay. I am still waiting for the admins of those pages to approve the posts. In my posts, I asked a few questions. See the two screenshots.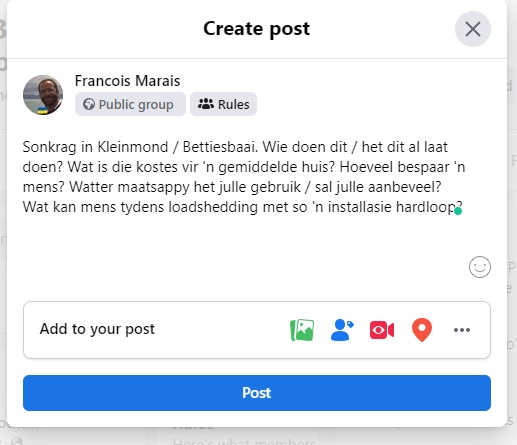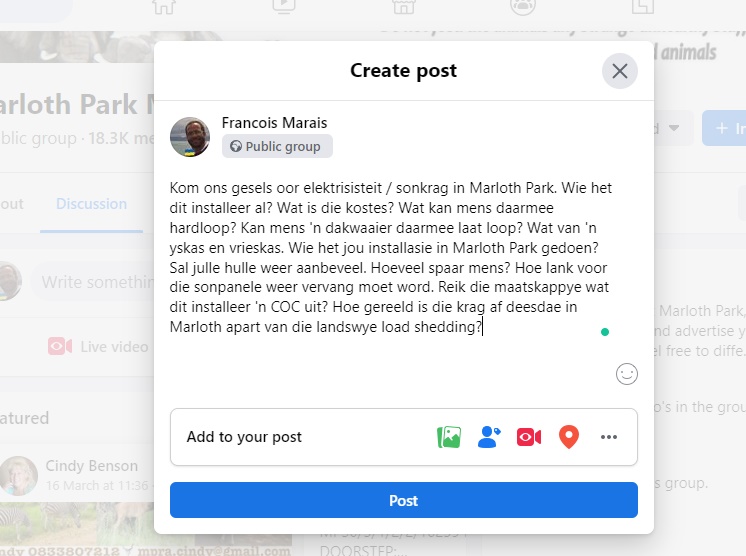 All these questions which I am asking are great examples of FAQ's (Frequently Asked Questions) which can be added to a website. It could also be added to a business directory such as www.marlothparkproperty.co.za . I am hoping to start chatting - my post in the Kleinmond Betty's Bay group was approved just now. I offer website copywriting services for website owners in South Africa. It follows that by doing some research into Solar Power, Frequently Asked questions, and the proper answers I will be in a better position to offer such services to a prospective client. I will also be reading up on the topic through various websites on the internet. Solar Power is not limited to South Africa but it is an ideal solution for South Africa.
I will get the FAQ's and their answers on this topic and then rewrite them so they can be used by the owner of a website selling solar-related products, typically an electrician. I have found electricians and plumbers that I am trying to sell my web design services beyond difficult to get hold of so we can sit down and develop their websites. They are always in the field busy with their jobs in order to pay their Friday wages and have some change left over for braai and beer. I will also use the knowledge gained to write a blog or two on the topic to aid my advertiser in getting business from their listing on the business directory of Marloth Park.