Blog
2022-04-08
Webwerf ontwerp in Bettiesbaai en Kleinmond (Web Design)
Johan
Baie dankie vir die besigheid en dat ons jou kan help om suksesvol te wees op die internet deur vir jou 'n webwerf te ontwerp. Ek gee hier 'n kort opsomming van die proses op skrif sodat ons almal op dieselfde bladsy is. Ek doen dit in Afrikaans want jy is Afrikaans. Ek doen dit op my persoonlike webwerf want my eie web design webwerf is onder konstruksie. (Ek het hom gebreek.) Dit sal so paar ure neem om hom reg te maak. www.buddywebdesign.co.za . Ek wil bietjie tyd neem om 'n nuwe look and feel vir ons eie webwerf te kry want ons web design webwerf het vir jare dieselfde gelyk.
Soos hierdie brief of blog 'n praktiese voorbeeld is doen ek baie moeite met inhoud op my webwerwe . Inhoud ( spesifiek woorde ) is belangrik vir soekenjins soos Google. Daar is ook ander soekenjins soos Bing en Yahoo maar Google is by verre die mees gewildste. Soveel so dat om te Google al 'n werkwoord geword het. Nou ja ons wil dat jou webwerf gevind word wanneer mense Google. Dit sal jou dalk verbaas maar mense Google wel in Afrikaans en deur hierdie blog van my in Afrikaans te doen, doen ek ietsie anders op die internet as meeste mense. Mens moet iets anders doen om die beste te wees of, in hierdie geval, wanneer iemand byvoorbeeld webwerf ontwerp gaan soek op die internet. Dalk soek iemand webwerf ontwerp of web design Bettys Bay. Deur hierdie woorde te gebruik op my webwerf staan ek 'n kans om gevind te word wanneer mense soekenjins gebruik. Dit is nou as my blog kwaliteit is en nie nonsens nie.
Jy is besig en ek is besig so ek sal korter skryf en tot op die punt kom. Ons het gisteraand binne 'n paar minute 20 fotos op jou webwerf gelaai deur te drag and drop. Ons kan honderde fotos op jou webwerf laai. Sonder teks gaan jou mooi fotos niks beteken vir jou pogings om goed te doen tydens Google soektogte nie. Ons sal veel beter doen deur 'n kort beskrywing by elke foto te gee.
Soos byvoorbeeld: " Hierdie is 'n houtdek wat ons vir Mnr Groenewald van Bettiesbaai gebou het. Ons het pine planke gebruik en die houtdek is afgeskuur. Ons het seker gemaak die houtdek se kante is glad sonder enige haakplekke. Laastens het ons die houtdek 'n paar lagies vernis opgesit want veral in die somer in Bettiesbaai kan die son nogal skade doen aan 'n onbehandelde houtdek doen. "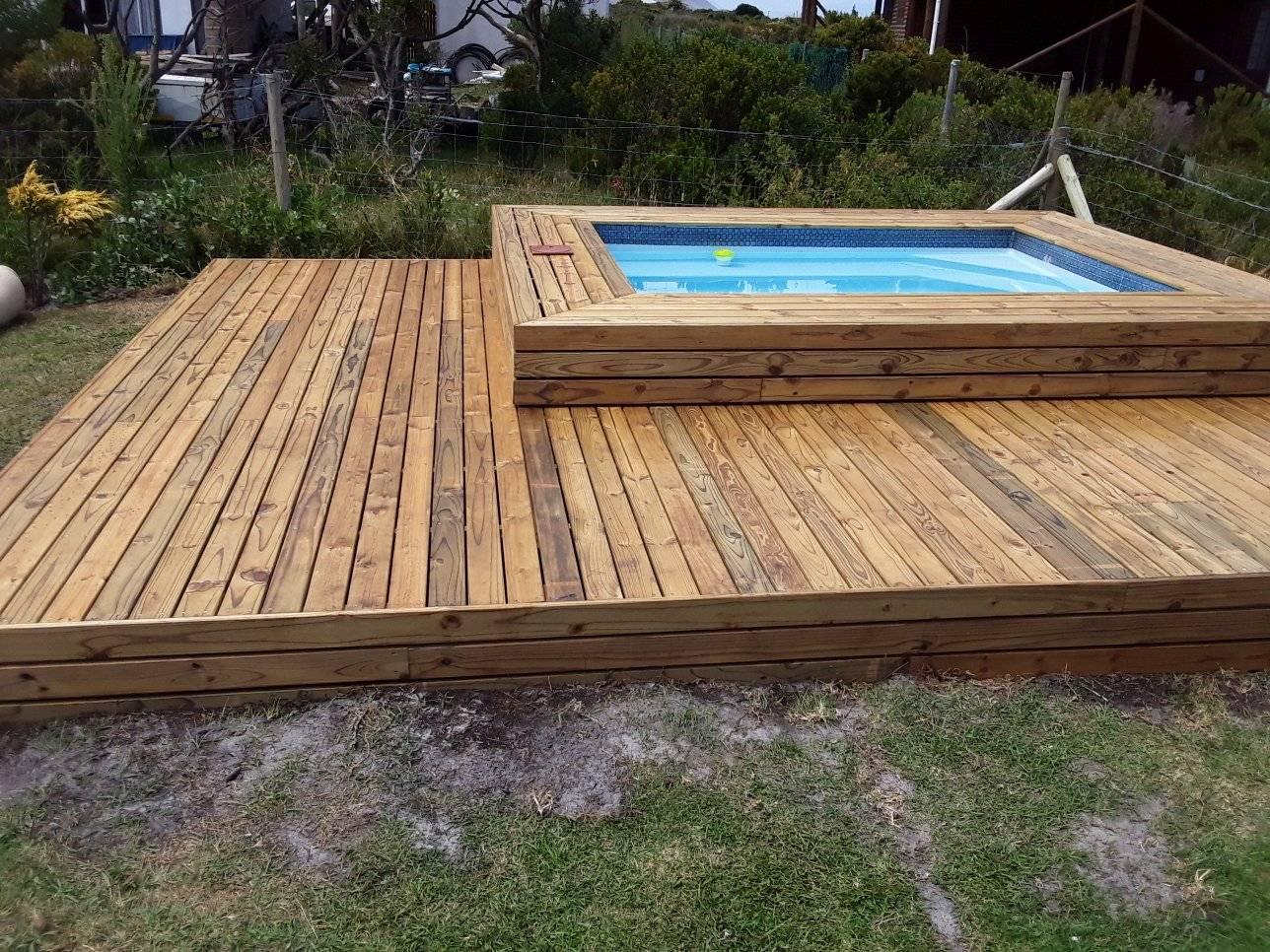 Foto bo: 'n houtdek wat ons web design klient van Bettys Bay of Bettiesbaai vir 'n klient gedoen het.
Let op na hierdie voorbeeld. Kyk wat maak ek met 'n foto. Ek skryf 'n kort storie en op 'n natuurlike manier gebruik ek sekere sleutelwoorde. In die geval van ons web design klient gebruik ek die woorde Bettiesbaai , Selfs Betty's Bay ( vrot afrikaans maar dit is hoe mense soek op Google) ek gebruik die woord houtdek. Ek moet pasop dat ek dit nie "over cook" nie want soekenjins sal dalk optel dat besig is om te spam. Nee mens moet net jouself wees en op 'n natuurlike manier skryf. Soekenjins is baie slim en deur die jare verbeter hulle. Hulle ken die kort paadjies en die slim paadjies wat mense wil volg en pas daarby aan. Ek kan vir jou voorbeelde wys van blogs wat ek 10 jaar gelede binne 'n paar minute geskryf het wat vandag nog vir my besigheid kan inbring sou iemand sekere soekterme gebruik.
Sien die foto hieronder: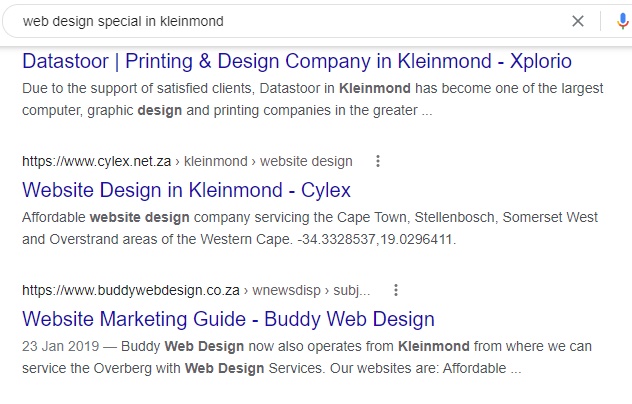 Screenshot van waar Buddy Web Design gevind word vir die langer soekterm " Web design special kleinmond" . Die blog of inskrywing het ek in 2019 gedoen en dit het 'n paar minute geneem. 3 jaar later kan ek moontlik steeds die vrugte pluk.
Hierdie lang storie en voorbeeld wat ek skryf het een doel ten oë en dit is: dat ons web design klient sal verstaan hoe belangrik die woorde is wat op die webwerf verskyn.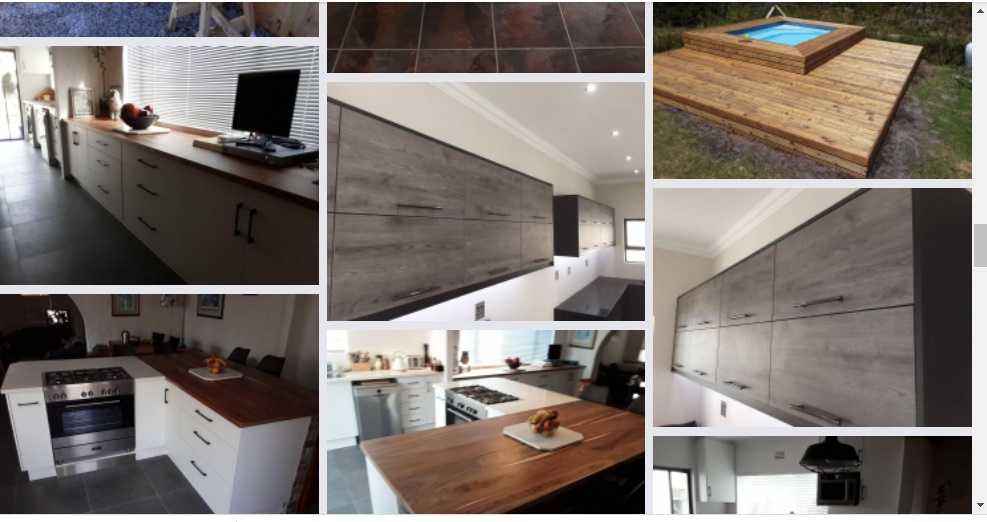 Foto bo: screenshot van werk deur ons web design klient gedoen. Die klient het oor die jare letterlik meer as 'n honderd fotos gelaai op sy Facebook bladsy. Google het nie een van die fotos in sy indeks nie. Google sal 'n lekker paragraaf teks saam met 'n foto wel oorweeg om by sy indeks te voeg. Ons poog dus met website teks om deur Google geindeks te word. Dit is wat ons wil bereik. Wanneer mense Google soektogte doen, dan soek mense nie die web nie maar hulle soek in Google se indeks van die web.
Melanie kan mooi graphics doen op Photshop. Sy raak lekker bedonnerd as ek haar wil aanjaag want ek verstaan nie altyd hoe tydsaam is die moeilike grafiese werk nie. Ons gaan 'n uitskiet Logo vir jou ontwerp.Ons wil dat jou website mooi lyk. Die meeste mense is begaan oor die look en feel van 'n website en dink nie verder nie. Ons gaan dieselfde doen vir jou en die website gaan mooi lyk. (Baie makliker met mooi fotos.).
Dan wat ek besig is om te doen is om vir jou 'n agtergrond te gee van hoe soekenjins werk. Deur hierdie blog behoort dit duideliker te raak dat teks op jou webwerf en die natuurlike gebruik van sleutelwoorde sonder om spammy te wees uiters belangrik is. Deur hierdie blog te lees en te verstaan sal jy deel wees van die minderheid van webwerf eienaars wat verstaan hoe soekenjins werk.
Jou website gaan mooi wees en jou website gaan die regte teks met die regte sleutelwoorde hê.
Ons gaan ook vir jou 'n Google my business ( Google Maps) bladsy oopmaak wat baie belangrik is. Dit is maklik en verniet maar baie kragtig.
Ons sal jou website submit by Google wanneer ons klaar is met die ontwerp van jou webwerf en wanneer jou domein geregistreer is.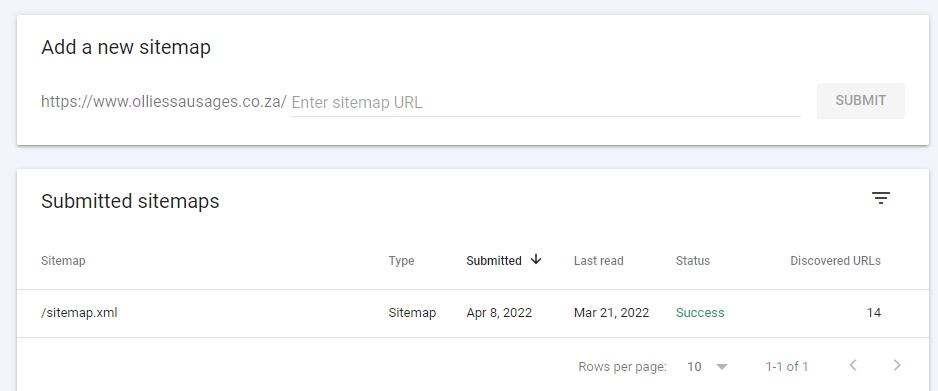 Screenshot van hoe dit lyk in Google search console. Ons het vanoggend vir Ollies Fine Meats and Sausages 'n sitemap van hulle webwerf by Google submit. Dit help vir Google om deur jou webwerf te kruip. Hulle moet deur jou webwerf kruip alvorens hulle die inligting gaan lees. Anders as jou webwerf kruip Google nie diep in jou Facebook bladsy nie. Dit gaan oor die beskerming van mense se privaatheid op die internet.
Ons kan nie wag om klaar te wees met die webwerf nie en om jou webwerf te deel op Facebook wanneer mense soek na jou produkte en dienste nie.Die skakel na jou mooi nuwe werbwerf, met testimonials van jou kliënte gaan soveel meer geloofwaardigheid bied wanneer ons jou op Facebook aanbeveel. Beide ek en Melanie is amper heel dag op Facebook waar ons web design kliënte soek.
Daarsy buurman. Nou weet jy 'n bietjie meer van wat ons doen en hoe ons dit doen. Ek soek beslis nie moeilikheid met die bure nie en gaan vir jou ekstra moeite doen. Ek doen graag ekstra moeite vir al my kliënte wie die moeite doen om tyd te spandeer op hul webwerf. Die sukses van jou webwerf hang af van 'n " vennootskap " tussen ons. Hierdie vennootskap vereis van jou om tyd te spandeer om vir my inligting te gee en vir my om daardie inligting op die webwerf te plaas. Soos in die voorbeeld kan jy die vrugte van daardie tyd vir jare daarna nog proe. As jy suksesvol gaan wees gaan ek suksesvol wees. Jy is in die unieke bootjie deur langs 'n baie ervare en passievolle web designer te woon wat ver meer as die ekstra myl vir sy kliënte sal stap. Gebruik die geleentheid en jy sal suksesvol wees op die internet. Hopenlik gaan jy baie besig wees en gaan jy in 'n gewoonte kom om aan te hou om die nuwe projekte met hul kort stories op jou webwerf te laai. Oor die jare het ons gesien dat kliënte wat hierdie advies van ons ter harte neem sukseslvol is en as hulle eers daai eerste twee drie joppies deur hul webwerf kry dat hulle lostrek en hulle webwerf ernstig opneem. Ons hoop dit is ook hier die geval.