Blog
2018-10-22
Bemarking van jou akkommodasie op die internet
Of jy nou 'n lodge besit of 'n enkele selfsorg vakansiehuis is dit belangrik om te verstaan wat jy kan doen om beter soekresultate op soekenjins soos Google te verkry.
Dit is ook belangrik om te verstaan wat die ander maniere is om jou webwerf te bemark en ook belangrik om te verstaan waarom jy steeds jou eie webwerf moet besit in 'n industrie wat so uiters kompeterend soos die toerisme industrie is.
Ek gaan Komatiepoort as 'n voorbeeld gebruik aangesien ons onlangs 'n webwerf vir 'n kliënt daar gebou het.
Kom ons Google "Komatipoort Akkommodasie" eers in Afrikaans:
(Kliek op elke foto om die eerste 4 resultate te sien)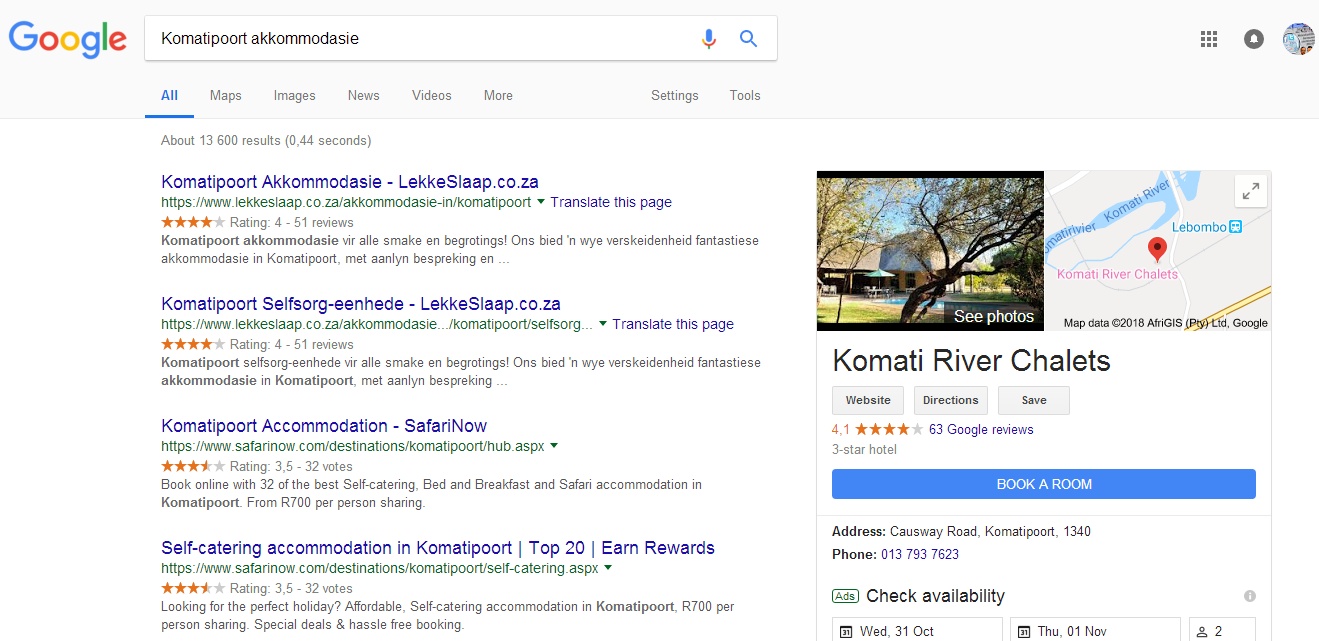 Kom ons Google "Komatipoort Accommodation" in Engels: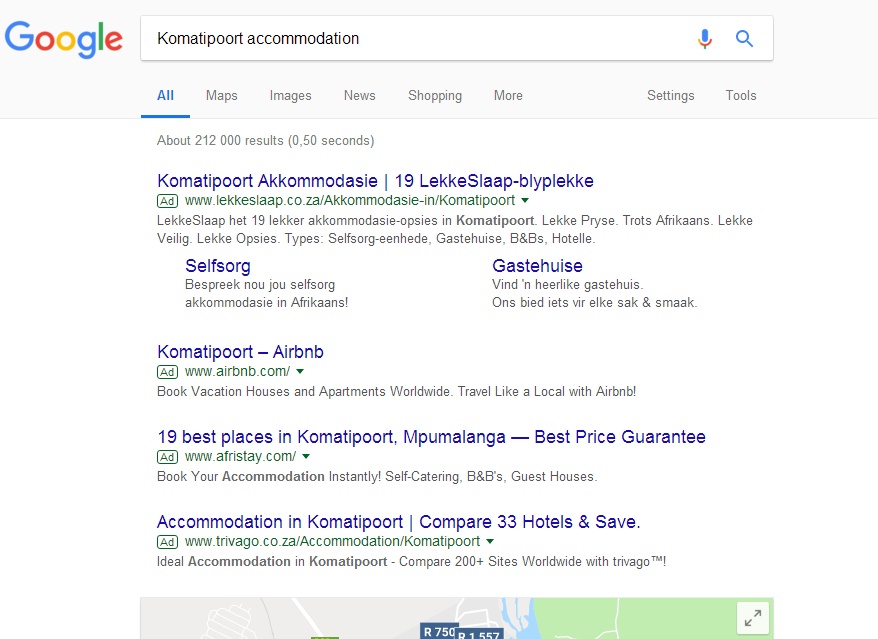 Kom ons Google "Krugerwildtuin Akkommodasie" in Afrikaans: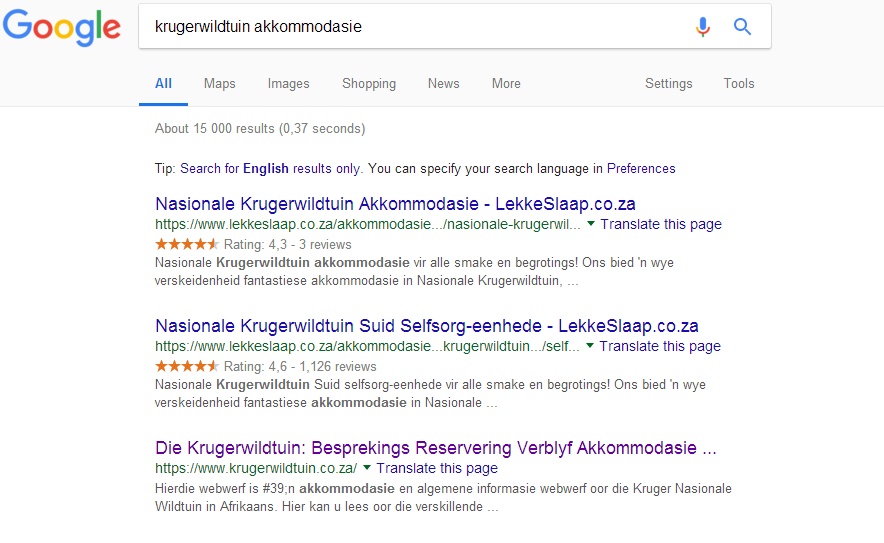 U kan self hierdie Google soektogte doen en kyk na die resultate op bladsy 1 en 2 . (Min mense sal die moeite doen om verder te soek) . Ons het slegs vir u gerief die fotos met hul uitskiet vensters hierbo gelaai.
U sal in elke geval oplet dat die heel boonste plekke in die soekresultate opgeneem word deur betaalde advertensies by Google. Bykomend tot hierdie resultate word resultate met direkte besprekingsopsies met Google Vennote soos Bookings.com .
Sien die resultate van Google Partners en die verduideling van Google oor hierdie resultate (regs onder) :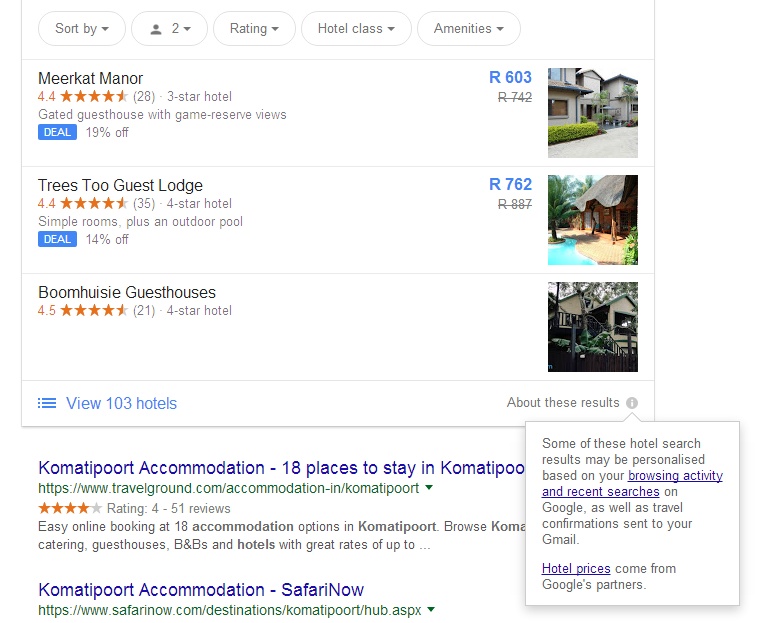 Eers na hierdie betaalde advertensies kom die organiese soekresulate voor.
Kom ons kyk vir elke soektog na die presiese soekresultate.
(Ek gaan vandag se soekresultate gebruik en nie die van gister toe ek die skermgrepe gemaak het nie.)
Komatipoort Akkommodasie
1.) Lekkeslaap (Advertensie)
2.) Google Vennote (Hotels.com , Booking.com , Expedia.com , SafariNow
3.) Lekkeslaap
4.) Lekkeslaap
5.) SafariNow
6.) SafariNow
7.) Where to Stay
8.) Kwatabeng
9.) Sa-Venues
10.) Sleeping out
11.) Komatiriverchalets
12.) Riverhilllodge
U kan self hierdie oefening vir die ander soekterme genoem herhaal aangesien die patroon elke keer dieselfde is. Dit is slegs die 11de en 12de soekresultate wat alleenstaande lodges is. Hierdie individuele webwerwe doen dus beter as die ander plekke. Wat kan die redes wees? Daar is meer as 200 formules wat Google oorweeg. Dit kan insluit die ouderdom van die domein, die kwaliteit van die skakels van ander webwerwe wat na die webwerwe skakel, die hoeveelheid kere wat die woord Komatipoort op die individuele webwerwe verskyn, of dit in die Hoof Titel van die webwerf en belangrike bladsye verskyn.
Vir 'n volledige beskrywing van Soekenjinoptimisasie lees asseblief my Blog getiteld : Wat is Soekenjinoptimisasie .
Dit blyk dus 'n mens nie anders kan as om ook by hierdie webwerwe wat op die heel boonste plekke van Google verskyn moet adverteer nie. Party webwerwe vra kommissie terwyl ander webwerwe 'n vaste fooi vra om by hulle te lys.
Where to stay vra nou R1950 + BTW om by hulle vir een jaar te lys.
Ek het soortgelyke toerisme webwerwe in Afrikaans en een in Engels begin waar ek slegs R900 vra vir 'n 5 jaar advertensie. DIt is vir my die moeite werd aangesien ek al die werk op my eie doen terwyl hierdie ander maatskappye baie mense se salarisse moet betaal. Waar die groot maatskappye dalk 'n verlies maak, maak ek 'n klein wins. Dit laat mens nogal dink. EK ken twee mense wat probeer het om die wiel te herontwerp en vir Google "ore aan te sit" wat miljoene rande so verloor het.
Die suksesvolle webwerwe wat bladsy 1 van Google domineer, waarby 'n mens noodwendig ook moet aansluit, spandeer miljoene rande oor jare op sagteware ontwikkeling. Hulle betaal mense om vir hulle inhoud vir hul webwerwe te skep. Dit is eintlik sinneloos as jy 'n webwerf vir 'n Lodge in Komatipoort besit om nou ook te gaan en te skryf oor die subtropiese vrugteboerdery van die omgewing, dat jy naby die Krugerwildtuin is, van Steinhacker's Horses, Tiervishengel, dat die grenspos met Mosambiek naby is. Hierdie onderwerpe is al in baie detail op baie webwerwe beskryf.
Ek het dit wel gedoen maar ek het dit in Afrikaans gedoen. 'n Mens moet anders wees, iets nuuts bied indien 'n mens ander resultate verwag. Tensy jou inligting beter is gaan Google nie 'n ouer webwerf afskyf en jou opskyf nie.
Sien die soekresultate vir Komatipoort meer oor die omgewing: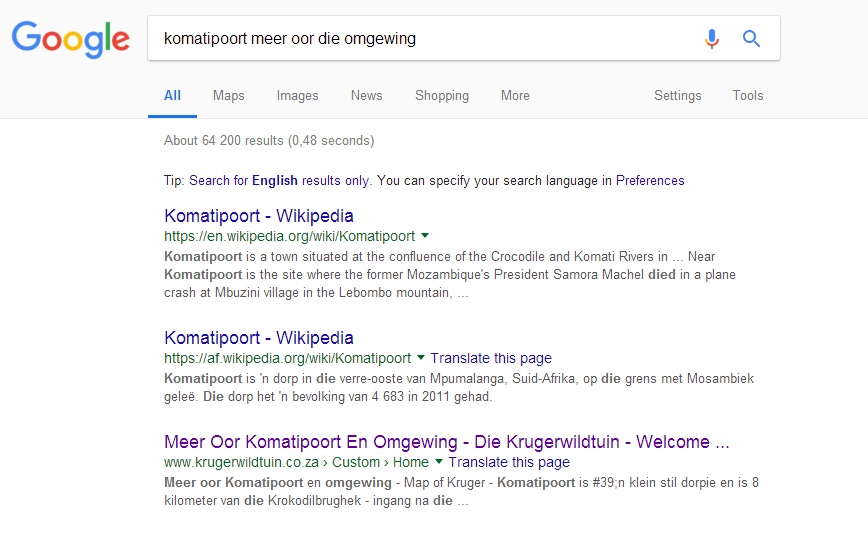 Ek is trots dat my webwerf oor die Krugerwildtuin net onder Wikepedia se resultate verskyn. Dit is wel 'n langer soekterm. Dit is makliker om vir langer soekterme gevind te word as vir kort soekterme. As ek 'n Lodge of selfsorg huis besit het wat ek uitverhuur sou ek byvoorbeeld beslis 'n permanente opskrif gehad het wat lui:
Penionaris afslag vir verblyf
Die Krugerwildtuin was onlangs in die nuus omrede hulle , hul pensionaris afslagte aansienlik ingeperk het. Dit skep 'n geleentheid vir mense om sulke spesiale aanbiedings te skep en te beskryf op hul webwerf. Jy kan nie gevind word vir 'n soekterm indien daardie woorde nie op jou webwerf verskyn nie.
Dit is dan die eerste rede hoekom mens steeds 'n webwerf moet bedryf al besit jy net jou eie lodge of jou eie selfsorg huis. Jy kan byvoorbeeld blog en vir langer soekterme gevind word, wanneer mense na spesifieke langer soekterme soek.
'n Tweede rede hoekom mens jou eie webwerf moest besit is omrede mens maklik jou webwerf kan bemark op Facebook.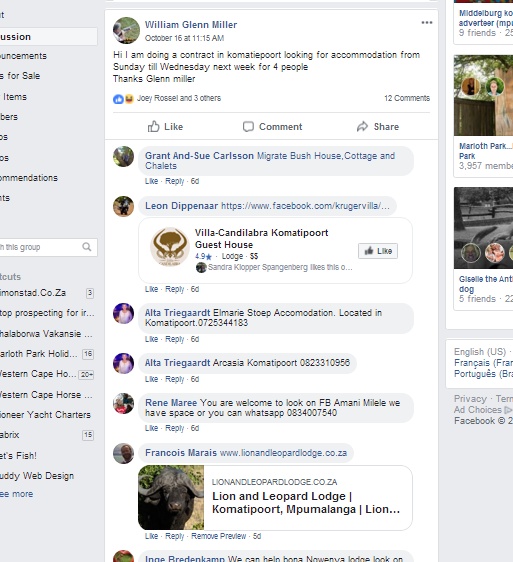 Foto bo: Sien waar iemand verblyf gesoek het in Marlothpark aangesien hulle kontrakwerk doen in Komatipoort. Ek kon in antwoord op hul navraag my kliënt se webwerf adres plaas. Daar is ook groot groepe op Facebook waar mense vra vir bekostigbare selfsorg akkommodasie.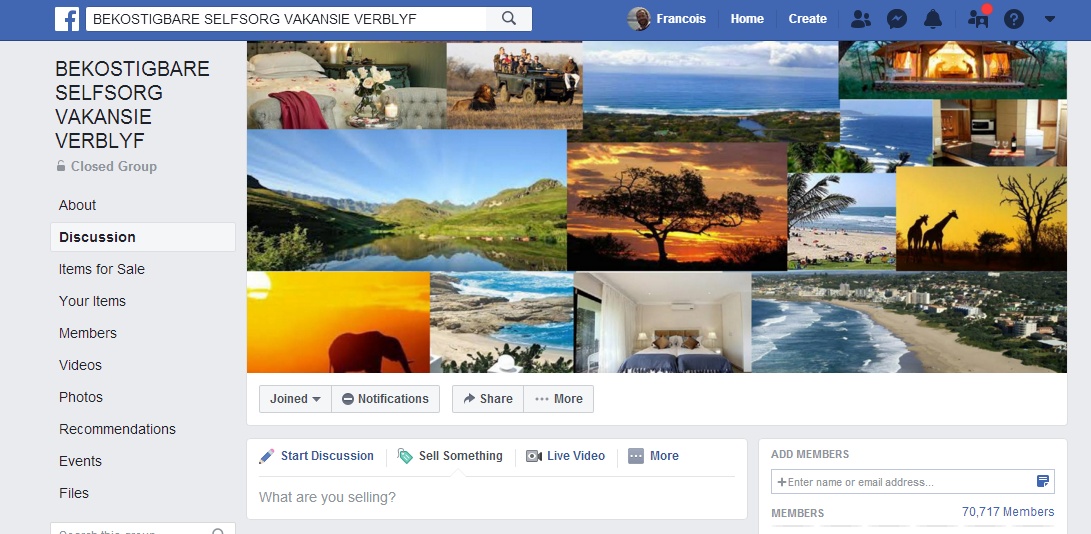 Foto bo: Die groep bekostigbare selfsorg vakansie verblyf het vandag 70,717 lede!
Party mense verkies om rond te soek op Facebook en te vra vir spesiale aanbiedings. Dit dan die tweede rede hoekom mens jou eie webwerf moet besit bykomed tot die ander bemarkingskanale wat mens kan gebruik.
'n Derde rede natuurlik is dat 'n webwerf meer legitimiteit aan 'n besigheid verskaf. Baie mense word elke jaar gevang deur mense wat vals akkommodasie op platforms soos Gumtree en Junkmail bemark so mense raak lugtig vir plekke wie nie hul eie webwerf besit nie.
'n Vierde rede is dat mense wat eers een maal by jou plek oornag het en daarvan hou die volgende keer self jou besigheid se naam sal insleutel in Google. Of van hulle vriende. Party mense verkies om direk met plekke te praat omrede hulle ook spesifieke vrae vir die eienaar het. Hulle wil nie deur 'n derde party bespreek nie.
'n Vyde rede om 'n webwerf vir jou selfsorghuis of lodge te skep is dat jy vir mense 'n afslag kan aanbied vir direkte besprekings. Dit is 'n feit dat mense wat deur derde party webwerwe plek bespreek aan daardie webwerwe kommissie moet betaal, kommissie wat verhoed kon gewees het indien direk bespreek is. (Indirekte kommissie wat deur die eienaar betaal moet word.)
Wenk : Soos afslag vir pensionarisse kan afslag vir direkte besprekings sterk sleutelwoorde wees , wel langer sleutelwoorde wat mense deur soekenjins soos Google na jou webwerf kan lok. Spesiale aanbiedings behoort deel uit te maak van jou standaard webwerf teks en dit op 'n permanente basis.
'n Sesde rede hoekom jy jou eie webwerf moet kry is dat sommige webwerwe soos die van Kwikwap vir jou die opsie gee om aanlyn kredietkaartbetalings te ontvang.
'n Sewende rede is dat die webwerf jou beskikbaarheidskalender kan bevat sodat mense kan sien of daar plek is of nie. Dit bespaar tyd.
'n Agste rede is dat baie mense sal 'n plek se naam lees op 'n ander webwerf (een van hierdie top webwerwe wat bladsy 1 van Google domineer) en dan sal hulle 'n Google soektog doen vir daardie spesifieke naam om meer te wete te kom voor hulle 'n bespreking doen. Ook omrede hulle dalk kan vra vir 'n beter prys vir 'n direkte bespreking.
'n Negende rede is dat jy tyd kan bespaar deur 'n deeglike veelgestelde vrae en antwoorde afdeling op jou webwerf te skep.= (Engels FAQ's of Frequently Asked Questions)
'n Tiende en finale rede is dat jy op jou webwerf die belangrike reëls , termes en voorwaardes van verblyf by jou plek kan oplaai sodat mense daarby kan hou en dat jy jouself kan beskerm ingeval iemand byvoorbeeld ontyd sou kanselleer.
Behlawe al hierdie redes sien ek dat die hoeveelheid direkte besprekings wat my kliënte op hul webwerwe kry die koste van 'n webwerf ver oorskry
Meer belangrik as hierdie redes is dat elke persoon of instansie die aard van bemarkingskoste moet verstaan. Bemarkingskoste behoort altyd 'n veranderlike koste te wees. Indien jy iemand aanstel op 'n vaste salaris sonder kommissie om vir jou bemarking te doen , dan is jy besig om vaste uitgawes aan te gaan. Soos jou huurkontrak en elektrisiteitsuitgawes. Hierdie uitgawes is vas elke maand maar kan nie jou omset verhoog nie.
Dit is baie belangrik om te verstaan dat die regte bemarkingskostes 'n veranderlike koste is. Hoe meer jy spandeer hoe meer behoort jou omset te styg.
Wat daarvan as Safarinow , Travelground of Lekkerslaap ook 'n geldjie maak wanneer mense deur hul webwerwe by jou plek bespreek? Om by hierdie instellings te lys is nog altyd onafwendbaar. Met Google vennote het dit nog meer onafwendbaar geword. Kyk na die webwerwe op bladsy 1 en 2 van Google en oorweeg maar gerus om daar te lys teen 'n kommissie of teen 'n vatse fooi.
Onthou ook dat daar ander maniere is soos Facebook en Reistydskrifte om jou webwerf te bemark.